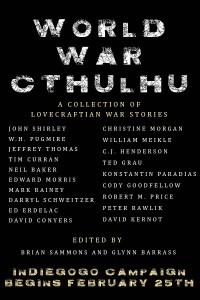 So, somehow I managed to get involved in writing a story with David Conyers in our Harrison Peel, Emerson Ash, Andrew Stone series of works. This one is another Peel and Ash story (the other is appearing on Lovecraft eZine soon I believe), and it marks my 4th story collaboration with David. Although, as I write this we are penning another in the same dark Military Science Fiction genre that for me will see as the eighth in a collaborative collection. I am producing. More news on pending publication acceptances here in the same genre

I'm thrilled to have done another story with David, and to have been accepted by two great editors, Brian Sammons and Glynn Barass, for inclusion in the Dark Regions Press collection that has some of the top contemporary mythos writers in it!
I'll keep you posted on publication dates.